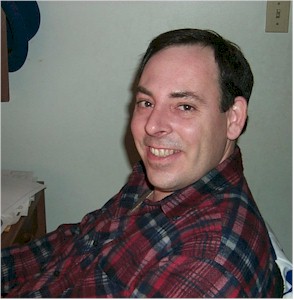 Hi and welcome to the "Man Behind the Makeup". My name is Dana Montgomery and I live in Wakefield, MA. I have been married to my wonderful wife, Ann, for more than nineteen years. We have two beautiful children named Katie and John (you can see a picture of them with Cheesecake here). We have three cats named Missy , Brewster and Bailey, a mouse named Molly, and nine fish.

On weekends and some evenings I perform as a juggler, magician and a clown. You probably know that already if you got to this page by way of Cheesecake the Clown. Click here to learn how I became a clown.

For most of my adult life I have been a software engineer. You can see my resume here. Or, if your really interested, you can find out how I got into computers here. Foolishly, I took a hiatus from engineering to become the Systems Officer at a local bank. It took me six years to realize that I hated it and two more to do anything about it. I came to my senses and went back to work as a software engineer at Kronos, Inc. located in Waltham, MA. I am currently alternatively employed doing software consulting, making ice cream and performing as a family entertainer.

In addition to clowning and daytime software engineering, I sometimes do technology-based consulting from my company, digital productions (the lower case is intentional, go visit the page and see my logo. It's the same even when turned upside down!).

My family and I enjoy spending time on Cape Cod in Wellfleet, which has one of the few remaining drive-in theaters in the country. While on the Cape we often visit Nauset Light and was saved from impending disaster by moving it back from the shore. Highland Light in Truro was moved at the end of July, 1996.

We also enjoy all things Disney. Walt Disney World, Walt Disney Pictures, Walt Disney Home Video, The Disney Store, Disney Collectibles, Disney Trivia, and the Disney things other people think are cool.

My favorite links can be found here.